"Sonatine", for clarinet and piano
"Variations on a string Quartet", for Flute, Oboe and two Clarinets
"Drei Chöre, Wandres Nachtlied, Der Abschied und Finale", for Choir SATB (1990)
"Noch kehrt in mich die süße Früling wieder (Hölderlin)" for Choir SATB (1990)
"Sieben Stücke, für Gesang, Klarinette, Bratsche und Klavier" (1991-92)
"Ave Virgo Sponsa Dei", motet for choir SATB (1996, rev. 2003)
"Quando Corpus", motet for choir SAB (1996)
"Missa", for female choir (2002-03)
Concert 4 oktober 2003 van enkele van mijn koorwerken, op het Theo Driessen-Instituut in Helmond.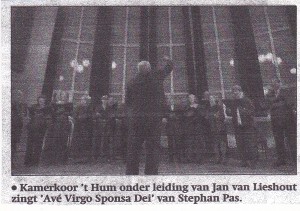 Het Ave Virgo Sponsa Dei schreef ik als eindexamen-opdracht contrapunt aan het Koninklijk Conservatorium in Den Haag. Mijn docent was Paul Scheepers, die mij drie jaar lang elke woensdagochtend om 8 uur inwijdde in de geheimen van het contrapunt. Het werkje is driedelig en de vorm is gebaseerd op het Ave Maria  van Josquin des Prez. Het is enigszins overgoten met een wat moderner idioom.
Op datzelfde concert ging ook mijn Mis  voor vrouwenkoor. Deze Missa in festis apostolorum is gebaseerd op de gelijknamige gregoriaanse mis. De gregoriaanse melodie komt steeds voor in één van de stemmen, de andere twee hebben een begeleidend gebroken akkoord of een variatie van de oorspronkelijke melodie, bijvoorbeeld een kreeft of een omkering ervan. Deze techniek wordt in de compositie aan het begin streng toegepast, later in het stuk steeds vrijer en is vergelijkbaar met de zogenaamde Tintinnabuli-stijl van Arvo Pärt.