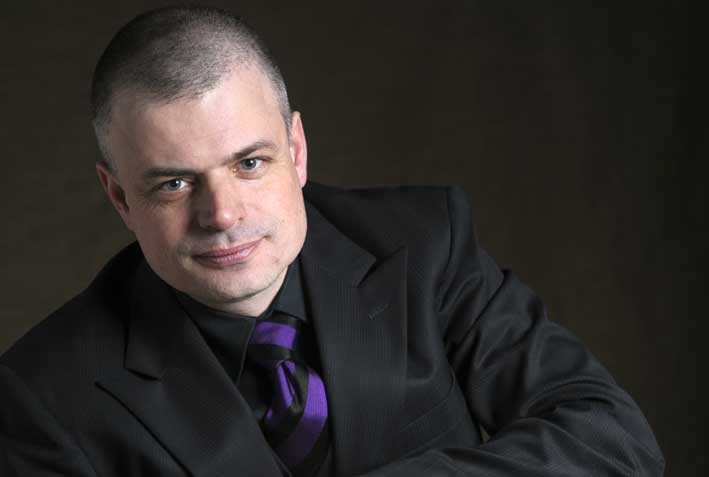 Stephan Pas studeerde klarinet en orkestdirectie aan het Koninklijk Conservatorium in Den Haag. Hij vervolgde zijn studies aan de Musikhochschule Trossingen en volgde masterclasses bij Hans Graf (Mozarteum Salzburg), Yuiji Yuasa (Musikhochschule Wien) en Jorma Panula. Stephan dirigeert in binnen- en buitenland en zijn repertoire reikt van de barok tot hedendaagse composities. Hij is oprichter en dirigent van het "Alban Berg Ensemble", waarmee hij eigentijdse muziek uitvoert en waarvoor hij ook bewerkingen maakt. Daarbij gaat zijn speciale interesse uit naar de componisten van de Tweede Weense School. Hij nam twee cd's op met "Cobla La Principal d'Amsterdam" en dirigeerde en produceerde een cd met liederen van Anna Cramer. Stephan is een warm voorvechter en pleitbezorger van eigentijds Nederlands repertoire. Daarnaast dirigeerde hij de Nederlandse premières van het dubbelconcert voor viool, hoorn en orkest van Ethel Smyth en van het complete ballet "Le Festin d'Araignée" van Roussel.
Stephan Pas studied clarinet and conducting at the Royal Conservatory of Music in The Hague. He continued his studies in Germany at the Musikhochschule Trossingen with Walter Hügler and was privately coached by Alois Springer. He attended masterclasses with Hans Graf (Mozarteum Salzburg), Yuiji Yuasa (Musikhochschule Wien) and Jorma Panula. Stephan is the founder and conductor of "Ensemble Contours" and the "Alban Berg Ensemble" which perform contemporary repertoire and for which he has also written orchestrations. He conducted the Kammerphilharmonie Budweis (CZ) and the Kammerorchester der Schumann Akademie, Leipzich. His CD productions include Rameau's opera Les Indes Galantes and El Llibre Vermell de Montserrat, a songbook from 1399, in a new arrangement for vocal and instrumental ensemble. Stephan is an enthusiastic advocate of contemporary Dutch repertoire, which resulted in a cd with orchestral songs of the dutch composer Anna Cramer (2010).
Stephan Pas (Dirigent) studierte Klarinette und Orchesterleitung am Königlichen Konservatorium in Den Haag. Er setzte sein Studium in Deutschland an der Musikhochschule Trossingen bei Walter Hügler (1928-2008) fort und war Privatschüler von Alois Springer. Er absolvierte Masterclasses bei Hans Graf (Mozarteum Salzburg), Yuiji Yuasa (Musikhochschule Wien) sowie Jorma Panula. Stephan ist Gründer des "Ensemble Contours" das zeitgenössische Musik aufführt, für das er Bearbeitungen und Orchestrierungen schreibt. Er dirigierte CD Aufnahmen von Rameaus Oper Les Indes Galantes sowie des El Llibre Vermell de Montserrat, ein Liedbuch aus dem Jahre 1399 in einem Arrangement für Vokal- und Instrumentalensemble. Stephan setzt sich intensiv für zeitgenössische niederländische Musik ein.
Stephan Pas a étudié la clarinette et la direction d'orchestre au Conservatoire royal de musique de La Haye. Il poursuivit ses études en Allemagne à la haute école de Musique de Trossingen avec Walter Hügler (1928-2008) et a suivi parallèlement les cours privé de Alois Springer. Il a suivi les master classes de nombreux grands chefs d'orchestre comme Hans Graf (Mozarteum, Salzbourg), Yuiji Yuasa (Musikhochschule, Vienne) et Jorma Panula. Stephan est le fondateur de l' « Ensemble Contours » de répertoire contemporain et pour lequel il a écrit les orchestrations. Ses productions de CD comprennent l'opéra de Rameau Les Indes Galantes, El Llibre Vermell de Montserrat, un recueil de chants médiévaux arrangés pour ensembles vocal et instrumental. Stephan est par ailleurs un ardent défenseur du répertoire contemporain néerlandais.